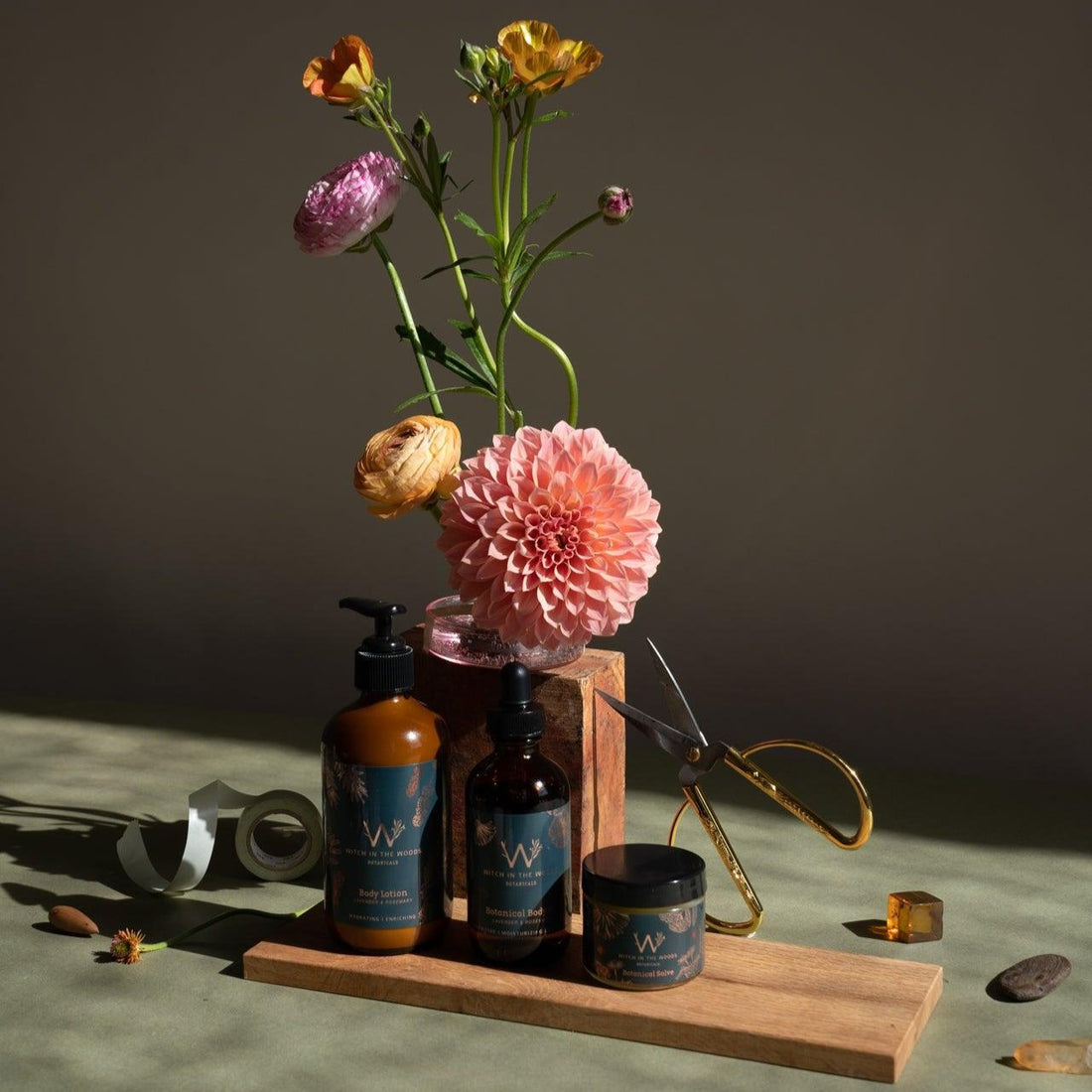 Unleash the power of the Witch in the Woods Ritual Body Collection to enchant and rejuvenate your skin. This magickal set includes:

Botanical Body Oil: Infused with a bewitching blend of organic and wildcrafted herbs, this sumptuous oil sinks deeply into your skin, imbuing it with an otherworldly hydration and nourishment.

Body Lotion: Enriched with the mystical properties of Rosemary and Lavender, this herbaceous lotion conjures a radiant, natural glow in even the most devitalized skin. Its opulent blend of plant oils and butters delivers lasting hydration, while the pure essential oils calm and uplift the spirit.

Botanical Salve: Crafted from a potent mixture of infused oils, butters, waxes, extracts, and essential oils, this salve is a powerful elixir that heals cuts, nicks, and dry skin with ease. Its potent formula can also soothe rashes, burns, eczema, stings, and bug bites, making it an indispensable part of any magical skincare ritual

Indulge in these enchanting creations and let the magic of nature transform your skin into a work of art.
To fully harness the magick of the Witch in the Woods Ritual Body Collection, we invite you to partake in this ritual.

First, prepare your sacred space by lighting candles and burning incense or sage. Focus your intention on self-care and nourishing your body.

Warm the 3-5 pumps of body lotion into the palm of your hand. Squeeze 1 dropper full of the botanical body oil over the top and warm between the hands. Apply all over the body, focusing on areas that need moderate moisture. Let your mind and body relax and be present in the moment. Breathe deeply and appreciate the sensation of your skin being nourished and cared for.

As you complete this ritual, remember to express gratitude to the earth and the plants that have provided these gifts. Take a moment to reflect on the beauty and magic of nature, and how it can transform and heal our bodies and souls.
Jojoba Oil: This precious oil closely mimics human sebum, which makes it suitable for various skin types and conditions. It is renowned for its moisturizing abilities as it attracts moisture to the skin and is quickly absorbed, leaving no oily residue.

Calendula: Gathered from the lush fields of Five Finger Farms in Ferndale, CA, our local Calendula is a powerful ally in your quest for healthy, glowing skin. Revered for centuries for its wound-healing and skin-soothing properties, Calendula is infused with an array of potent compounds that make it an effective natural remedy for a wide range of skin issues. This magical herb possesses anti-inflammatory, antimicrobial, astringent, anti-fungal, antiviral, and immunostimulant properties, making it a must-have for those who seek to purify, heal, and rejuvenate their skin. Whether you're dealing with acne, minor wounds, bruises, chapped skin, or stretch marks, Calendula can help to minimize scarring and support the production of collagen to promote smoother, firmer skin

Lavender: Lavender is prized for its profound ability to cool an overheated body. Lavender essential oil gives luster to the skin, balance to the body and happiness to the mind.

Yarrow: Our yarrow is responsibly wildcrafted from the salty mountains of Humboldt County, CA. Yarrow is an medicinal herb beneficial for the skin by reducing inflammation and promoting circulation. Used in skincare for improving the appearance of wrinkles, enhancing skin softness, and keeping the skin free from bacteria that can lead to breakouts.

Sweet Almond oil: Extracted from sweet almonds. Loaded with vitamins, minerals, healthy fats and proteins that improve complexation and skin tone. Reduces the appearance of scars and helps reverse skin damage.

Shea Butter (raw, unrefined): Deeply nourishing and skin softening. Contains several vitamins and minerals as well as fatty acids that benefit the skin.

Local Wildflower Honey: One of nature's most gentle and well-rounded ingredients. The precious nectar is harvested from Humboldt County, CA and carries within it the pure essence of vitality and nourishment and powerful antioxidants, minerals and vitamins. Its gentle touch soothes and restores the skin's natural radiance, revealing a soft and luminous glow.
Botanical Body Oil: Roses▽*, Lavender*, Calendula▽*, Yarrow**, infused in Sweet Almond Oil, Jojoba Oil*, essential oils of Lavender* and Rosemary*, vitamin E oil, Rosemary antioxidant*

Body Lotion: Distilled water, unrefined shea butter*, sweet almond oil*, palm stearic acid, emulsifying wax, vegetable glycerin*, honey▽, radish root ferment, honeysuckle flower extract, honeysuckle extract, aspen bark extract, gluconolactone, vitamin E oil, rosemary antioxidant*, essential oils of lavender* and rosemary*

Botanical Salve: Chamomile▽*, Lavender*, Calendula▽*, Roses▽*, Yarrow**, Sweet Almond Oil*, Coconut oil*, Olive oil*, honey▽, beeswax▽ Propolis extract▽, Vitamin E*, essential oils of Rosemary* & Lavender*
*Organic
▽Locally sourced
**Wildcrafted
Botanical Balm: 2 oz / 60 mL, Body Lotion: 8oz / 237mL, and Botanical Body Oil: 8oz / 237mL
Wildcrafted with Care
Many of the ingredients in our products are wildcrafted meaning that we have harvested them from nature in a way which respects the environment and the plant's ability to propagate into the future.
Learn more about the plants in our Herbarium.