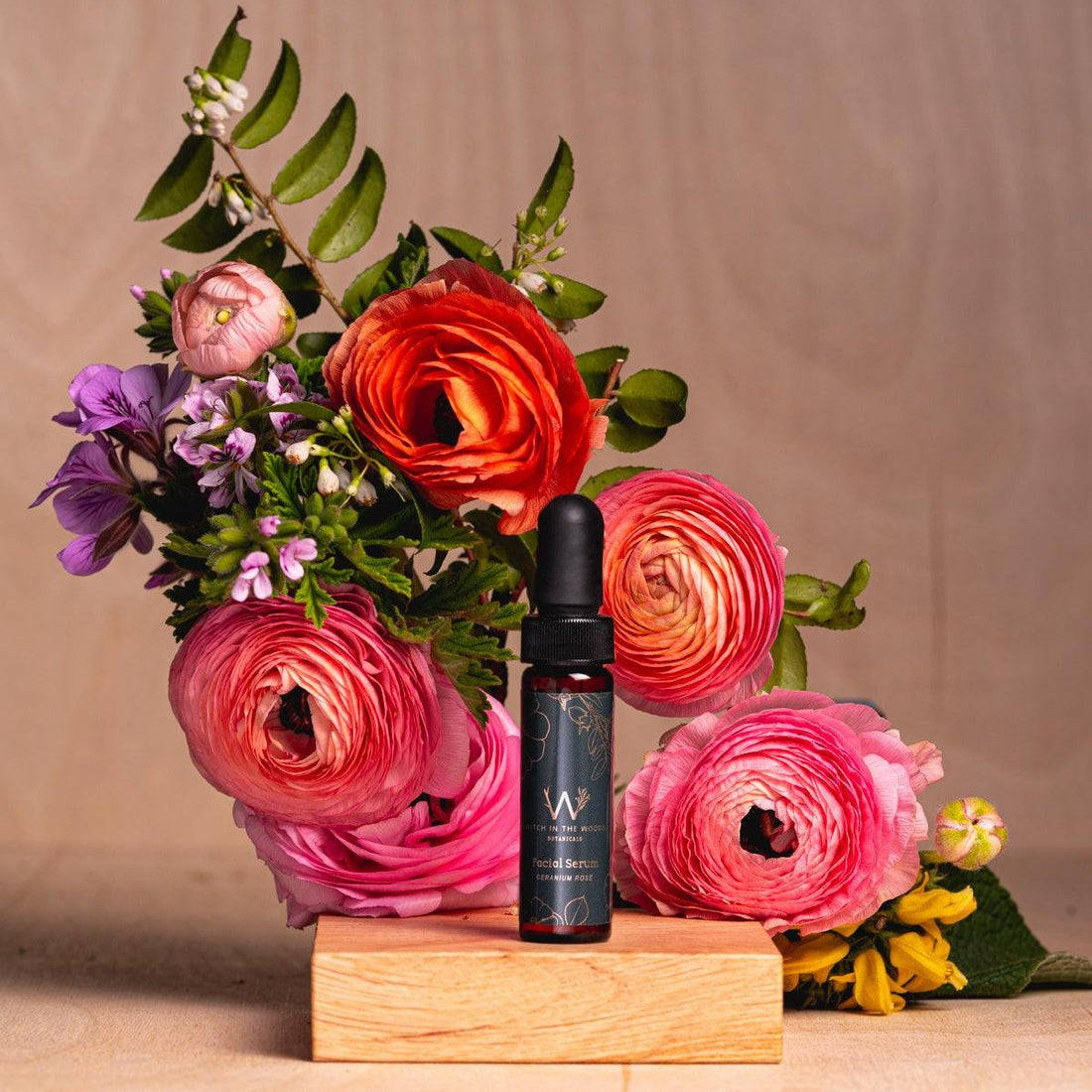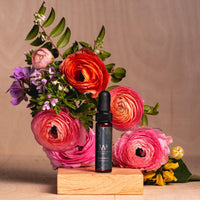 Facial Serum // Geranium Rose
Indulge in the enchanting blend of botanical oils that make up Witch in the Woods Facial Serum. This serum is crafted to nourish and hydrate your skin, unveiling a natural glow that will leave you spellbound.
After toning and while skin is still damp, warm 1-2 pumps in hands and gently press into face, neck and chest.

Turn the mundane into a mindful ritual. Put a love spell on yourself. Look into the mirror into your own loving eyes while you gently massage in the facial serum and repeat;

"I love myself and I exude beauty and confidence."

Enhance your skincare ritual with the mystical art of gua sha. Begin by anointing your skin with a few drops of serum, allowing the gua sha tool to glide effortlessly across your visage, as if guided by magic.

Start with your neck and décolletage, holding the gua sha tool with the smooth edge against your skin, and using gentle upward strokes. Let the tool work its magick from the base of your neck to your jawline, and then to your collarbones, repeating this bewitching motion several times with light to medium pressure.

Next, bestow your attention upon your jawline and cheeks. Commencing from the center of your chin, let the gua sha tool dance along your jawline towards your ears, infusing your skin with its mystical energy. Follow the contour of your cheeks, from the corners of your mouth towards your ears, as you perform this massage on each side of your face.

Then, summon the power of the gua sha tool to your forehead. Enchant your skin with gentle upward motions, from the center of your forehead towards your hairline. You can also weave its spell from the middle of your eyebrows towards your hairline, tracing the arc of your brows in a captivating ritual.

Your mystical gua sha journey continues with the delicate skin around your eyes. Use the curved or pointed end of the tool to cast its enchantment, starting from the inner corner of your eye and gliding towards the outer corner, following the graceful curve of your eyebrows. Take care to be gentle and avoid exerting too much pressure on this sensitive area.

Lastly, grace your brow bones and lips with the gua sha tool's magic touch. Let it glide along your brow bones, starting from the inner corner and moving towards the outer corner. You can also cast its spell on your lips, tracing gentle lines along your upper and lower lip, leaving behind a touch of its bewitching aura.

With devoted practice, gua sha can become a mesmerizing and invigorating addition to your skincare ritual, invoking healthy circulation, releasing tension, and leaving your skin spellbound with its radiant glow. So, embrace the mystical allure of gua sha and let your skincare routine transcend to a realm of pure enchantment




Geranium Essential Oil: The sweet, uplifting floral scent also is reputed to effectively eliminate dead cells, tighten the skin, promote the regeneration of new skin, and diminish signs of aging.

Rosehip Seed Oil: Harvested from the seeds of the enchanting rose bush. This mystical oil holds the power to bestow a rosy vitality upon the cheeks. Infused with Vitamin A, C and E, as well as omega-3, 6, and 9 fatty acids and carotenoids, it possesses potent healing properties that work to restore and rejuvenate damaged skin.
Jojoba oil*, Rosehip seed oil*, Moroccan Argan oil*, Vitamin E Oil, Essential oil of Geranium Rose*

Our commitment to truth and transparency is as potent as our love for the earth. We believe in the power of knowledge and the magic of transparency, for we honor your right to know every ingredient that touches your skin and soul. Our products are crafted with integrity and imbued with the highest vibrations of honesty, so you can trust that every ingredient listed is one that we stand behind. We invite you to explore the depths of our enchanted ingredients and embrace the power of informed choices, for we believe that transparency is the key to unlocking the ancient wisdom of the earth and the sacred alchemy of beauty.
*Organic
▽Locally sourced
**Wildcrafted
Wildcrafted with Care
Many of the ingredients in our products are wildcrafted meaning that we have harvested them from nature in a way which respects the environment and the plant's ability to propagate into the future.
Learn more about the plants in our Herbarium.