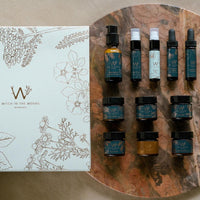 The Enchanted Sample Set ✨
Give the gift of natural beauty with Witch in the Woods Enchanted Sample Set. This box is perfect for a budding herbalist or witch who wants to sample the entire product line. The Witch in the Woods Gift Box contains sample sizes of:
Botanical Body Lotion 
Body Oil
Sugar Scrub
Botanical Toner 
Facial Serum 
Hydrating Face Cream 
Fresh & Clean Herbal Sanitizer
Botanical Salve 
Deodorant Balm
Lip Balm (Surprise Scent) 
One Sample Candle (Surprise Scent) 
*Organic
▽Locally sourced
**Wildcrafted
Wildcrafted with Care
Many of the ingredients in our products are wildcrafted meaning that we have harvested them from nature in a way which respects the environment and the plant's ability to propagate into the future.
Learn more about the plants in our Herbarium.