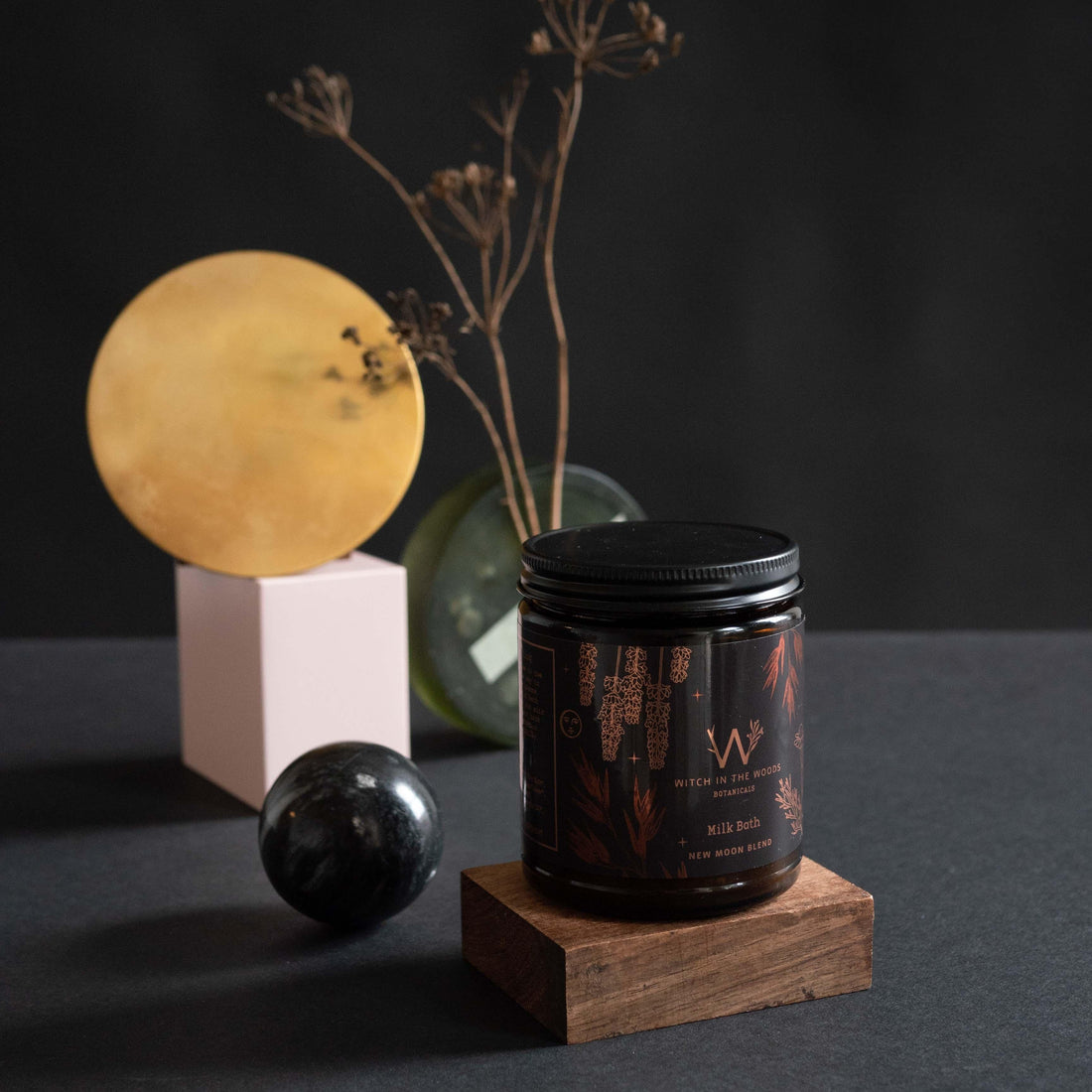 Attune to the cycles of the Moon with Witch in the Woods New Moon Milk Bath. A soothing blend of plant milks, salts, clays and herbs that gently detoxify and nourish the skin, while leaving you feeling deeply relaxed, soft, and connected to self. 

Our milk baths are made with herbs ruled the Moon. Ritual bathing with the Moon can helps us to feel more connected and aligned with the natural cycles. To read more in depth about ritual bathing check out our blog: Make it a ritual: Magick by the Moon
Start by preparing yourself by making tea made with herbs that support you in what you need during this time. Make enough tea for sipping and pouring into the bath.

Take some time to prepare a bath for yourself, in the same way you would if you were trying to make it extra special for someone you love.

Light candles, grab a crystal and sprinkle in our New Moon Milk Bath. Stir clockwise with intention. This infuses the bath with good energy, herbs and salts for cleansing and nourishment. Immerse yourself into your watery throne.

Get still like the deep dark waters of the New Moon. This is a safe space to nourish the part of ourselves that has been depleted, though acceptance. If we can step into the void, willingly, and embrace uncertainty, we can start to let go of the things that are weighing us down. It is in the heart of the rich darkness, where you will plant your seeds.

Soak long, soak beautifully.
Mugwort: An herbal ally on your journey to self discovery. Used for centuries for its ability to induce prophetic dreams and helping to access the hidden wisdom of our subconscious mind. Mugwort can be used to facilitate lucid dreaming or astral travel and to sharpen intuition and promote creativity. Working with Mugwort during the new moon, a time of intuitive space, can open ourselves to new possibilities and create the lives we desire

Epsom Salt: Soaking in an Epsom salt bath provides magnesium to the body, an important mineral that many of us are deficient in. Magnesium helps to regulate the body, especially sleep. Soaking in an Epsom salt bath can help soothe tired muscles and ease tension headaches. In addition, Epsom salt can be used to promote healing by drawing out toxins and excess fluid.

Epsom salt, coconut milk powder*, pink salt*, oatstraw*▽, lavender*, butterfly pea flower*, coconut activated charcoal*, mugwort extract**, lavender essential oil*, clary sage essential oil*
*Organic
▽Locally sourced
**Wildcrafted
Wildcrafted with Care
Many of the ingredients in our products are wildcrafted meaning that we have harvested them from nature in a way which respects the environment and the plant's ability to propagate into the future.
Learn more about the plants in our Herbarium.