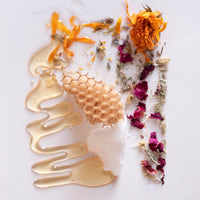 The Witch in the Woods has concocted a magical Botanical Salve using herbs, oils, butters, waxes, extracts, and essential oils, all intended for treating cuts, nicks, and parched skin. This mystical elixir also possesses the power to alleviate rashes, burns, eczema, stings, and pesky insect bites, leaving your skin feeling eased and soothed.
As you prepare to work your magic, make sure your hands are cleansed with intention. Then, apply the salve with care and reverence to the area in need of healing. Allow the soothing and nourishing properties of the botanicals to work their magic, aiding in the release of discomfort and promoting a sense of wellness.

Remember, the power of the salve lies in its purity. Protect it from the elements and honor its sacred ingredients by keeping the jar free from moisture, water, or contaminants. Store it in a cool, dark place to preserve its precious antioxidants and ensure its potency.
Propolis extract: As a tribute to the buzzing creatures of our local lands, we create our very own propolis extract sourced from the honey bees of Humboldt. This extract is imbued with potent anti-inflammatory and antimicrobial properties, making it a powerful ally for the skin in times of need.

Local Honey: One of nature's most gentle and well-rounded ingredients. The precious nectar is harvested from Humboldt County, CA and carries within it the pure essence of vitality and nourishment and powerful antioxidants, minerals and vitamins. Its gentle touch soothes and restores the skin's natural radiance, revealing a soft and luminous glow.

Yarrow: Gathered from the misty mountains of Humboldt County, CA on its planetary day for extra magick. Yarrow is a powerful herb for skin, revered for its ability to reduce inflammation and increase circulation and an herb beneficial for the skin to reduce inflammation and aids in wound healing.

Calendula: Gathered from the lush fields of Five Finger Farms in Ferndale, CA, our local Calendula is a powerful ally in your quest for healthy, glowing skin. Revered for centuries for its wound-healing and skin-soothing properties, Calendula is infused with an array of potent compounds that make it an effective natural remedy for a wide range of skin issues. This magical herb possesses anti-inflammatory, antimicrobial, astringent, anti-fungal, antiviral, and immunostimulant properties, making it a must-have for those who seek to purify, heal, and rejuvenate their skin. Whether you're dealing with acne, minor wounds, bruises, chapped skin, or stretch marks, Calendula can help to minimize scarring and support the production of collagen to promote smoother, firmer skin


Chamomile▽*, Lavender*, Calendula▽*, Roses▽* Yarrow**, Sweet Almond Oil, Coconut oil*, Olive oil*, Wildflower Honey▽, Beeswax▽, Propolis extract▽ , Vitamin E*, essential oils of Rosemary* & Lavender*

Our commitment to truth and transparency is as potent as our love for the earth. We believe in the power of knowledge and the magic of transparency, for we honor your right to know every ingredient that touches your skin and soul. Our products are crafted with integrity and imbued with the highest vibrations of honesty, so you can trust that every ingredient listed is one that we stand behind. We invite you to explore the depths of our enchanted ingredients and embrace the power of informed choices, for we believe that transparency is the key to unlocking the ancient wisdom of the earth and the sacred alchemy of beauty.
*Organic
▽Locally sourced
**Wildcrafted
Wildcrafted with Care
Many of the ingredients in our products are wildcrafted meaning that we have harvested them from nature in a way which respects the environment and the plant's ability to propagate into the future.
Learn more about the plants in our Herbarium.