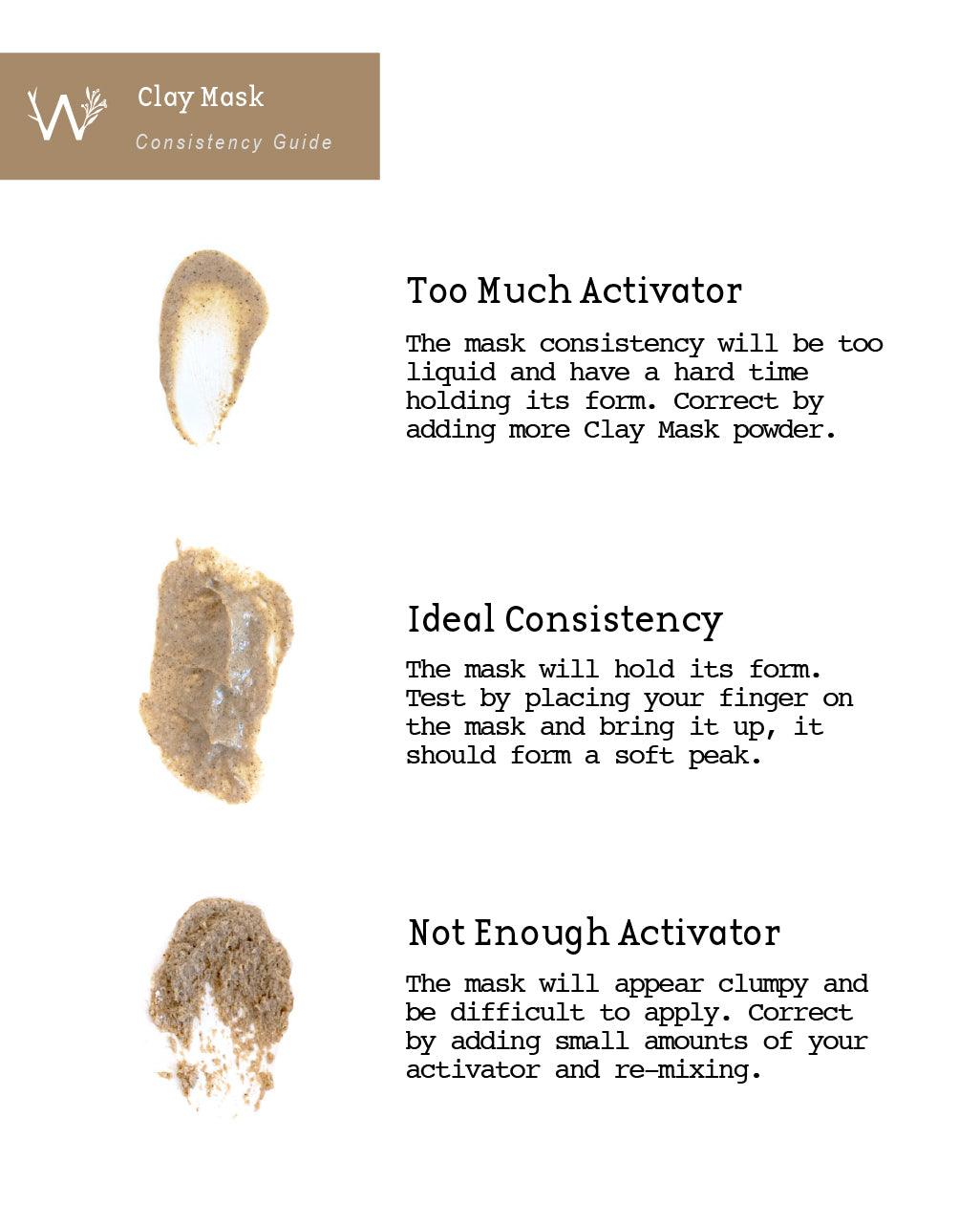 Witch in the Woods Clay Mask provides a thorough cleanse, gentle exfoliation, and detoxification of the skin. It is crafted with a blend of botanicals and clays that effectively reduce blemishes while promoting balance for all skin types. Additionally, it may alleviate discomfort associated with insect bites and stings.
This mask comes inactivated and can be personalized to your unique skin type.

Sensitive skin: water, chamomile tea
Dry skin: honey, avocado
Oily skin: ACV, tea or hydrosol

To use the Witch in the Woods Clay Mask, mix 1-2 tablespoons of the clay mask with 1 teaspoon of water or your preferred activator until a paste-like consistency is formed. Allow the mixture to steep for a minute or two. Then, apply the paste onto your face, neck, and chest. Make sure to keep the mask hydrated (with hydrosol, toner or a facial steamer) to prevent it from drying out completely. To remove the mask, use warm water or a warm washcloth. Afterward, thoroughly saturate your skin with Witch in the Woods Facial Serum and/or Face Cream.

Witch Tip: For an extra touch, prepare yourself a herbal steam, use the tea to activate the mask and drink the tea while you mask.

For more inspiration visit our blog: Clay Mask Magick
French green clay: Mined from the naturally occurring deposits in France and left untreated, French green clay has a beautiful light green color with a soft texture. Its powerful absorbent properties literally "drinks" oils, toxic substances, and impurities from your skin. Its toning action stimulates circulation and brings a natural, healthy glow. French Green clay is great for helping to clear occasional skin blemishes. Use it daily on trouble spots, or weekly as part of a complete facial treatment.

Fennel: An astringent and cleansing ingredient that is suitable for most skin types, including those that undergo seasonal changes. This oil is known for its ability to promote and maintain youthful skin, making it a beneficial addition to your skincare routine. Additionally, Fennel is particularly helpful when the skin is troubled, providing soothing relief.

Lavender: Prized for its profound ability to cool an overheated body. It possesses a sacred essence that radiates tranquility to the soul and clarity to the mind.
French green clay, kaolin clay, bentonite clay, colloidal oatmeal▽, lavender powder*, calendula powder▽*, fennel powder*, essential oil of lavender*

Our commitment to truth and transparency is as potent as our love for the earth. We believe in the power of knowledge and the magic of transparency, for we honor your right to know every ingredient that touches your skin and soul. Our products are crafted with integrity and imbued with the highest vibrations of honesty, so you can trust that every ingredient listed is one that we stand behind. We invite you to explore the depths of our enchanted ingredients and embrace the power of informed choices, for we believe that transparency is the key to unlocking the ancient wisdom of the earth and the sacred alchemy of beauty.

*Organic
▽Locally sourced
**Wildcrafted
Wildcrafted with Care
Many of the ingredients in our products are wildcrafted meaning that we have harvested them from nature in a way which respects the environment and the plant's ability to propagate into the future.
Learn more about the plants in our Herbarium.